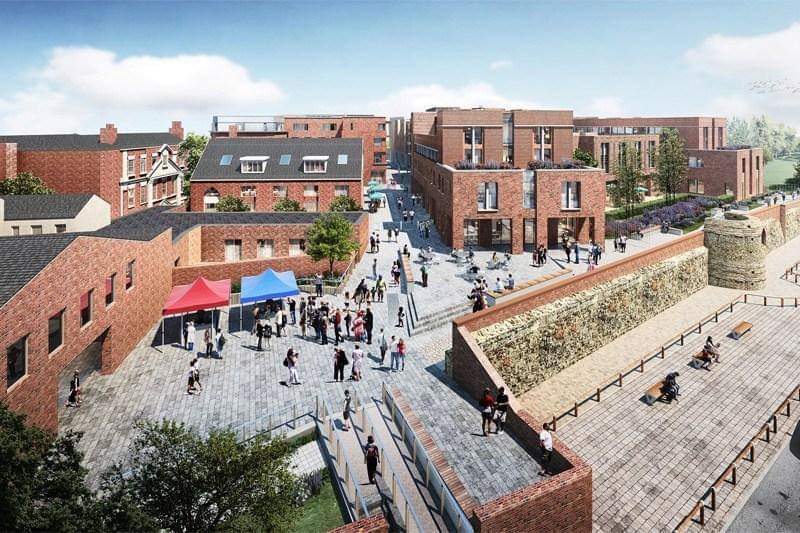 THE PROPOSED ALUMNO DEVELOPMENT
THE CIVIC SOCIETY WILL BE REPRESENTED AT THE PUBLIC INQUIRY WHICH STARTS TODAY AT ST. BOTOLPH'S CHURCH. HERE IS THE PROGRAM.
PUBLIC INQUIRY
10:00 on Wednesday 16 October 2019
Appeal by Alumno Student (Essex) Ltd
re
Demolition of existing buildings/structures and redevelopment to provide purpose-built student accommodation; hotel; commercial space (use Classes A1, A3, A4, B1(c) and D2); artists studios, and associated vehicular access and public realm improvements.
on land at Queen Street, Colchester, CO1 2PJ
Agenda
Week 1
Wed 16th am: Inspector's Introduction.
Matters of clarification re positions and participation;
OMC Investments: – Heritage Consultation, Southern access, Housing land supply, Transportation/highways, Public realm
Opening statements; Appellant, Council, OMC Investments.
Third parties opposing the proposal but not participating in the round table sessions or prepared to give evidence at a later time.
pm: Round Table Session, Consultation.
Round Table Session, Pedestrian Access (in the context of movement); Queen Street to Berryfields, John Ball Square to First Site Square, John Ball Square to Berryfields, Priory Street to John Ball Square, (including access for persons with disabilities).
Any other movement/transportation issues.
Thurs 17th: Round Table Session, Urban Design with particular reference to the Character and Appearance of this part of the Colchester No.1 Conservation Area;
Architectural style and its appropriateness within the wider townscape of the Queen Street sub area,
Public Realm considerations
Scale and massing of the proposed buildings in the context of: First Site Square, Queen Street, Roman Town Wall Berryfields, John Ball Square;
The scheme's design detailing and the appropriateness of using conditions to resolve such issues in an important Conservation Area.
Fri 18th: Round Table Session, Heritage; Impact of the proposal on the setting of heritage assets: Castle Park and the Listed Buildings around the junction of High Street and Queen Street, The Minories, East Hill House, The Roman Town Wall, St Botolph's Priory; Overall impact on the setting of the Colchester No. 1 Conservation Area.
Week 2
Tues 22nd: Other third-party evidence.
Any Cross examination of Transportation and Urban Design witnesses.
Cross examination of Heritage witnesses: Christopher Morley, Jon Burgess,
Wed 23rd: Cross Examination of Planning witnesses: Kathryn Oelman, Nicola Parsons, Ben Wrighton.
Thurs 24th am: Site visit.
pm: Conditions, Legal Agreement, CIL.
Fri 25th am: OMC Closing submissions, Council Closing submissions, Appellant Closing submissions.
Submissions on any other matters.
A preliminary discussion about conditions and the Section 106 Agreement between a representative from each main party and the Inspector will be held after the close of proceedings on Tuesday 22nd, unless the timings of the main business dictate otherwise.
The Council should coordinate the production of a list of any places that participants consider the Inspector should visit, in addition to the appeal site, on his site visit on Thursday 24 October. This information should be finalised by noon on Wednesday 23 October. Active participants will be expected to attend the visit and to point out the views etc. that they wish the Inspector to look at.
If it is difficult for some third parties wishing to verbally present evidence to the Inquiry during daytime hours, the Inquiry could sit into the evening on an agreed day.
Third parties wishing to participate in the proceedings should, in the first instance, contact Marie Rutherford at Colchester Borough Council Email: Marie.rutherford@colchester.gov.uk, Tel: 01206 282250 to discuss an appropriate time to give evidence. They should also read the advice in the Pre-inquiry Note, especially but not exclusively that contained in paragraph's 9-11.
Back To News