Our Planning Work
The Society encourages the best modern architecture and is prepared to comment on planning matters at every level. We respond to consultations on planning issues, from specific sites to the more general Local Plan. We also support the conservation of our older buildings of merit – buildings that are of historical importance, add to a street scene, are architecturally pleasing or simply of sentimental value within the community. We often raise our concerns about the condition of such buildings.
A recent example of where the Society's intervention yielded a positive result is shown here.
Bow window in Colchester High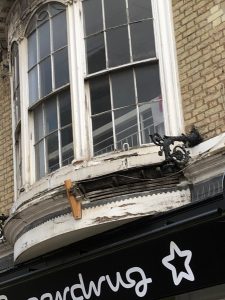 The Bow window restored!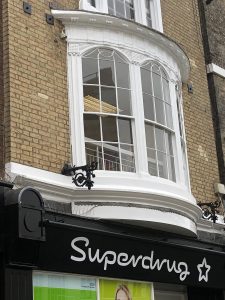 Planning Applications large and small
The society was actively involved in opposing the proposed Alumno Development alongside Firstsite and worked with Colchester Borough Council and OMCI (Greyfriars) in opposing this at the planning enquiry.
We all await the final outcome of this process. However this is just one of many applications that the society comments on or objects to on an ongoing basis.
A recent example was the Society's opposition to the proposal by Lion Walk Shopping Centre to paint a mural on vestry wall of Holy Trinity Church. The Society actively opposed this application for Historic Building Consent and helped to raise considerable opposition from ward councillors, historians, members of the society and other concerned residents of the town. The application was called in by Castle Ward Councillor Mark Goacher and went to a full Planning Department hearing, at which John Burton (president of the Society) spoke on our behalf. Significantly the application was also opposed by the Conservation Officer and the Historic England Inspector in reports which largely mirrored the points in the Society's objection (see link below). With such a weight of opposition it was no surprise that the application was refused.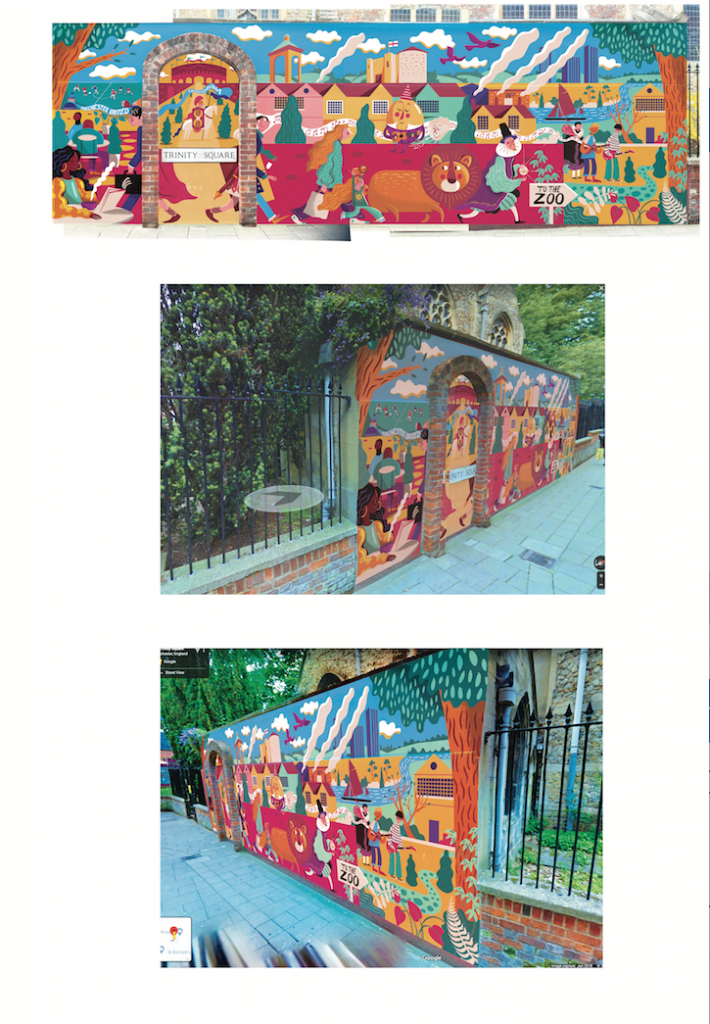 Colchester Civic Society comments on or objects to planning applications both large and small.
Listed here are the results of the most recent applications to have been considered by the Colchester Planning Department, for which we offered comments or objections. This is followed by new applications which we commented on or objected to which have yet to be considered by Planning.
30th April 2022
Planning Applications commented on or opposed .
221097 52/53 High Street HMO application objection . This is are the premises where the cannabis farm was found .
221139 Shepherd's undertakers buildings to be converted to flats with new build rear building . Comments
2132735 Queens Road 3rd floor front windows and roof material . Comments
221303 Subway signage in previous JoJo Mamam baby store ,Sir Isaac's Walk . Objection
221342 28a Turner Road ,doubling of shopfront .Comment re parking
213524 Queens Street/Priory Walk new plans submitted to old application . Comment.
221210 Rovers Tye public house external bar with all the additions . Comment
221481 St Leonard's School House , Standard Road. Comment re upvc replacement windows to Locally Listed building.
Decisions on previous applications
220263 Head Street/Church Lane approved for " Milksha " premises.
221865 115 Butt Road 48 sheet bill board refused
220962 The Centurion pub , North Hill new signage scheme refused