Our Planning Work
The Society encourages the best modern architecture and is prepared to comment on planning matters at every level. We respond to consultations on planning issues, from specific sites to the more general Local Plan. We also support the conservation of our older buildings of merit – buildings that are of historical importance, add to a street scene, are architecturally pleasing or simply of sentimental value within the community. We often raise our concerns about the condition of such buildings.
A recent example of where the Society's intervention yielded a positive result is shown here.
Bow window in Colchester High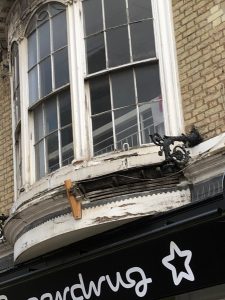 The Bow window restored!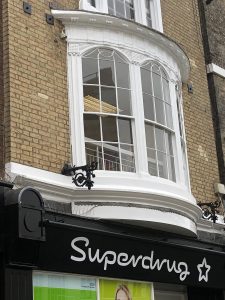 Planning Applications large and small
The society was actively involved in opposing the proposed Alumno Development alongside Firstsite and worked with Colchester Borough Council and OMCI (Greyfriars) in opposing this at the planning enquiry.
We all await the final outcome of this process. However this is just one of many applications that the society comments on or objects to on an ongoing basis.
A recent example was the Society's opposition to the proposal by Lion Walk Shopping Centre to paint a mural on vestry wall of Holy Trinity Church. The Society actively opposed this application for Historic Building Consent and helped to raise considerable opposition from ward councillors, historians, members of the society and other concerned residents of the town. The application was called in by Castle Ward Councillor Mark Goacher and went to a full Planning Department hearing, at which John Burton (president of the Society) spoke on our behalf. Significantly the application was also opposed by the Conservation Officer and the Historic England Inspector in reports which largely mirrored the points in the Society's objection (see link below). With such a weight of opposition it was no surprise that the application was refused.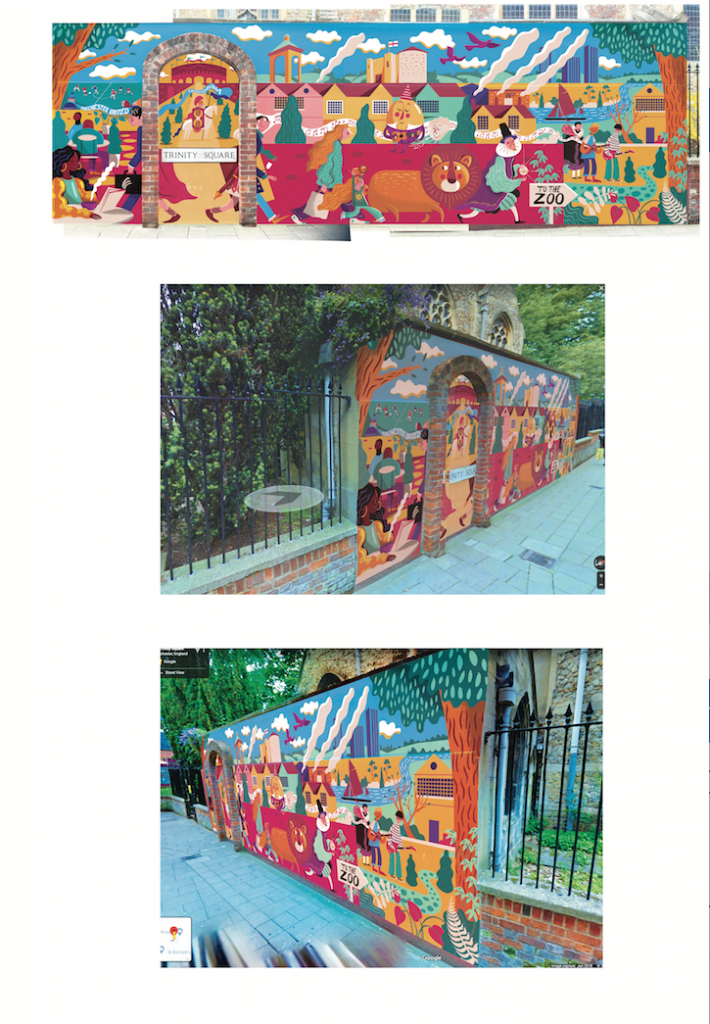 Colchester Civic Society comments on or objects to planning applications both large and small.
Listed here are the results of the most recent applications to have been considered by the Colchester Planning Department, for which we offered comments or objections. This is followed by new applications which we commented on or objected to which have yet to be considered by Planning.
31 October 2021
34 North Station Road refused change of frontage and use of rear garden etc of listed building
56 High Street withdrawn application for new signage to Listed building
TSB 2 Culver Street approved signage changes but not A board for pavement use.
Ask restaurant North Hill ,amended painting scheme has been approved now
10 Cambridge Road conversion including to Coach House has been refused
The scheme for housing at the Old Rectory ,Spring Lane Lexden has a target date now for 10th December
The Colne Quay Student Housing scheme has a target date now for 15th December
The ex Squires Room premises in St Botolph's Street have received Conditional Approval to comply with the approved drawing specs externally within 6 months. Watch this space !
New Applications which have been commented on.
Lion Walk /solar brick lights to the entrances
Lion Walk / new signage
Red Lion/Lion Walk 4 x light projectors in the archway of the hotel
79 Magdalen Street new conversion and building to the rear.
The MAN site for outline planning permission for housing
St Nicholas House for a electric canopy and sides for the rear to create on outdoor food/drink area
Signage on the old Jacks building for the " Other Monkey Brewing"