Our Conservation Work
Colchester Civic Society has a long history of involvement in conservation projects, from the Scheregate Improvement scheme and the Cannock Mill/Bourne Mill project of the 1960's, through to the present day with the Southway Murals Restoration in 2018.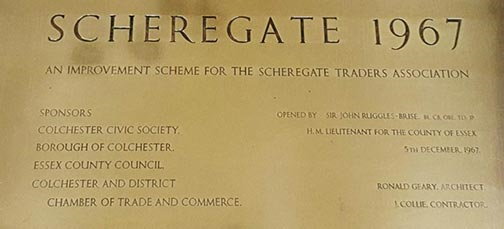 The Bourne Mill Cannock Mill Project
This was one of the societies earliest and most significant conservation projects, completed almost fifty years ago and two members of our current executive committee have been associated with the society long enough to have played a small part in this.
The Society bought the land between Bourne Mill and Cannock Mill, cleared the stream of vast quantities of rubbish, cut back undergrowth and restored the footpath so that its future as a properly maintained public open space could be assured. The land is now in the care of the Borough Council and as the photos below demonstrate they have continued to keep the path , with its long sections of boardwalk, in good order.
When walking this path it is easy to forget that this beautiful stretch of the Bourne Valley is in the midst of an urban area.
The Southway Murals
Colchester Civic Society in collaboration with Colchester in Bloom began fundraising in 2014 in order to restore the series of concrete murals produced by husband and wife team Henry Collins and Joyce Pallot, which were installed in Colchester's Southway Subways in 1973 -1974.
A grant from Essex Heritage Trust enabled feasibility work and initial restoration of the Abbeygate Street Mural. The full restoration of all the subway murals was made possible by a £55,000 grant from the Heritage Lottery Fund and also a grant from The Hervey Benham Trust.
The terms of the Heritage lottery grant meant the restoration project included working with the areas school children and young film makers from Signals Media, the Colchester based specialists for film education and digital arts. In addition to contracting restoration specialists to carry out the work, the grants also paid for the commissioning of a film documenting the restoration, the installation of interpretation boards and the creation of a website to provide information about Henry and Joyce's work and also provide public access to the Film.
Husband and wife team, Henry Collins (1910 – 1994) and Joyce Pallot (1912 – 2003) lived and worked in Colchester. They worked as a team. Their first mural in concrete was made in 1969 in Colchester. This was a commission by Stanley Bragg architects for the external wall of the Sainsbury store in Priory Walk .
The couple went on to be commissioned for further work for Sainsbury, also for British Home Stores and many local authorities across the UK and made an important contribution to the post war public art movement. Now over forty years old the series of murals in the Colchester Southway subways are important examples of the artist's early work.
The Film Concrete Legacy can be viewed on our Publications Page
This is the link for the Henry and Joyce website.
Colchester's War Memorials
The impressive war memorial at the east end of Colchester High Street is a major landmark, but Colchester possess more than fifty other memorials dating from the Great War of 1914 – 1918.
In October 2017 Dr Paul Rusiecki was requested by the Colchester Civic Society to produce a survey of all the borough's war memorials connected with the Great War. The aim was to establish whether any of them required repairs and/or refurbishment during 2018, the centenary of the Armistice, and the year in which funding for such matters might reasonably be expected to end. We are pleased to report that none were found to be in need of repair.
In addition, included in this survey is a transcription of all the unveiling and dedication ceremonies which were held, from the very first one, at the Colchester and East Essex Cricket Club in 1915, until the most recent, at North Primary School in 2017. In this way the Civic Society now possesses a comprehensive list of these ceremonies, together with the names of the men who were listed as having fallen in the war.
The full document which runs to approximately 150 pages and 45,000 words, plus numerous photographs, is available here as a PDF which you may download to read offline.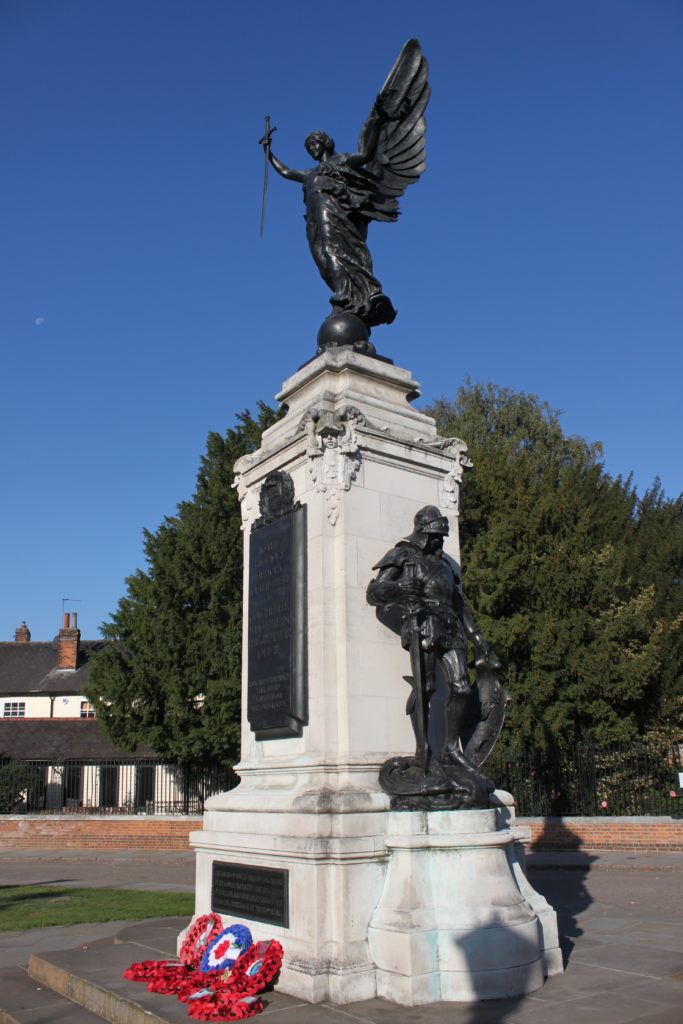 Colchester's Cast Iron Lampposts
A recent survey by Robert Mercer (for Colchester Civic Society) has established that Colchester currently has 300 unique cast iron lampposts. These were made for the Borough Council by a number of Colchester Foundries during the nineteenth and first half of the twentieth centuries. The pattern, or wooden former used to produce these castings was owned by Colchester Borough Council and passed to the foundry which had the current contract to supply castings for the street lighting. Originally these would have all been for gas lights but in due course they were converted to electric lighting. At the time of the last survey by Ewan Russell (father of Sir Bob Russell) in the late 1970's and early 80's counted 555. Clearly if something isn't done to conserve at least some of these lampposts then a part of Colchester's industrial heritage and its Victorian/Edwardian street scene will be lost for ever.
To make matters worse the remaining lampposts have not had a coat of paint since Essex County Highways took over from Colchester Borough in 2005 and many are now in a very sorry state, as these photos clearly illustrate.
We hope to use the results of the survey as a basis for a dialogue with Essex Highways, with a view to finding some way to conserve at least some of our diminishing stock of Colchester made cast iron lampposts. We regard them as a significant part of Colchester's Heritage and as such should not be allowed to be lost through neglect.
Colchester Civic Society aim to try to ensure the future of these posts in any way possible, including " Local Listing " from Colchester Council, which might then lead to the greater powers of national listing. But our primary aim is to find some way for voluntary groups such as Residents Associations as well as the Civic Society to work with Essex County Highways in finding a way to restore and maintain at least some of these cast iron lampposts.
Roman and Castle Road Residents Association are already collaborating with County Highways to help maintain pavements and trees in their conservation area. We hope that a way forward may be found for extending this collaboration to the restoration and long term maintenance of cast iron lampposts in those roads.
Colchester Civic Society stands ready to play a part in such a collaborations and we invite other groups and individuals with an interest in preserving Colchester's heritage to join us in this venture.