Publications & Films
Colchester Civic Society is occasionally involved in the publishing of books, research and films. 2018 has been a productive year with the publication of the book The Historic High Street, A website and two films about the work of Henry and Joyce Collins, with particular focus on their concrete murals in the Southway subways. Also just published through this website is a major survey of Colchester's war memorials commemorating the Great War of 1914-18
The Historic High Street
The Henry and Joyce Website
Film A Concrete Legacy
Film Behind The Scenes
Colchester's War Memorials
A Survey of Colchester's ironwork
The Historic High Street 1100 – 1700
by Dave Stenning, Richard Shackle and Jane Greatorex. Published by Colchester Civic Society in 2018.
The book contains beautifully detailed drawings of the timbered buildings which once lined Colchester High Street, some of which remain to this day, though mostly hidden behind more recent facades.
This is available from Red Lion Books in Colchester High Street.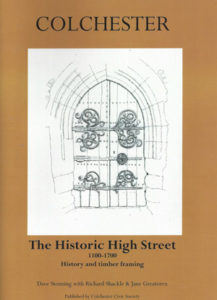 The Henry and Joyce Collins Website
This website was created to provide information about the artists and their work in their home town of Colchester.
In 2017 Colchester Civic Society and Colchester in Bloom, supported by a grant from Heritage Lottery Fund, undertook the restoration of the artist's concrete murals across the town's Southway subways. The project was to reinvigorate and celebrate the significance of the concrete and mosaic murals, made in 1972 – 73 by husband and wife team Henry Collins and Joyce Pallot.
The website gives further information about the artist and the restoration projects. It also includes links to two films produced by Signals Media as part of this project.
Film – A concrete Legacy – the story of the restoration project plus
Behind The Scenes – A short film about the making of A Concrete Legacy
Colchester's war memorials
In October 2017 Dr Paul Rusiecki was requested by the Colchester Civic Society to produce a survey of all the borough's war memorials connected with the Great War, a survey that was to include photographs of them all to determine whether any required repair or refurbishment. The aim was to establish whether any of them required repairs and/or refurbishment during 2018, the centenary of the Armistice, and the year in which funding for such matters might reasonably be expected to end. We are pleased to report that none were found to be in need of repair.
In addition, included in this survey is a transcription of all the unveiling and dedication ceremonies which were held, from the very first one, at the Colchester and East Essex Cricket Club in 1915, until the most recent, at North Primary School in 2017. In this way the Civic Society now possesses a comprehensive list of these ceremonies, together with the names of the men who were listed as having fallen in the war.
The full document which runs to approximately 150 pages and 45,000 words, plus numerous photographs is available below as a PDF which you may download to read offline.
A survey of Colchester's Iron Work.
This is a comprehensive survey by Robert Mercer covering all forms of cast iron work, including lampposts, bollards, railings, manhole covers and a variety of other forms of casting, which have survived in Colchester. However, as Robert points out in his own introduction, the essence of the survey is the recording of surviving Colchester Pattern Cast Iron Lampposts made for Colchester Council by a number of Colchester Foundries during the nineteenth and twentieth centuries. These lamppost are easily identifiable because they commonly have the foundry name and Colchester on the side. The pattern was a wood former which was owned by the Council and would be passed to the foundry which had the current contract to supply castings for the street lighting. Originally these would have all been for gas lights but in due course they were converted to electric lighting.
We hope to use the results of the survey as a basis for a dialogue with Essex Highways, with a view to finding some way to conserve at least some of our diminishing stock of Colchester made cast iron lampposts. We regard them as a significant part of Colchester's Heritage and as such should not be allowed to be lost through neglect. At the time of Ewan Russell's survey in the late 1970's and early 1980's there were over 550 original Colchester made lampposts on our streets. Today that number is down to 300. At that time Colchester Council maintained the posts, repainting them and replacing damaged posts from a stock of spares. When County Highways took over in …. this all stopped and they have not had as much as a coat of paint in all this time. As a consequence many are now in a dilapidated state, with large areas of rust and peeling paint.
We aim to try to ensure the future of these posts in any way possible, including " Local Listing " from Colchester Council, which might then lead to the greater powers of national listing. But our primary aim is to find some way for voluntary groups such as Residents Associations and The Civic Society to work with Essex County Highways in finding a way to restore and maintain at least some of these cast iron lampposts.
Roman and Castle Road Residents Association are already collaborating with County Highways to help maintain pavements and trees in their conservation area. We hope that a way forward may be found for extending this collaboration to the restoration and long term maintenance of cast iron lampposts in those roads.
Colchester Civic Society stands ready to play a part in such a collaborations and we invite other groups and individuals with an interest in preserving Colchester's heritage to join us in this venture.