Our Work With Plaques
The Civic Society is keen to commemorate important people, places and events in the town and has been involved with the erection of several blue plaques and the restoration of others plaques including one which commemorates John Ball, one of the leaders of the Peasants' Revolt.
The Society also encourages others to sponsor the erection of plaques and is prepared to give advice on procedures and wording. Recognising it is impossible to give very much information on a plaque, the Society has devised several Plaque Trails.
A number of members have photographed plaques, indicating the positions on maps, having researched background details very thoroughly, they have also added those details to the map. A link is available here. http://www.placecheck.info/colchesterplaquetrails/[http://www.placecheck.info/colchesterplaquetrails/]
Recent plaques erected by the Society include: A plaque to commemorate Charles Haddon Spurgeon was erected on the small church in Artillery Street to mark the site of his conversion. Spurgeon lived on Hythe Hill. One morning in 1850, when he was about 15 years old, he was walking to church when a heavy snowstorm impeded his journey. He decided to turn into Artillery Street and attend the service at a small Primitive Methodist Church instead. The rostered preacher had been beaten by the snow and a member of the congregation was persuaded to 'say something'. It was enough to convert young Charles. Later, aged 20, he was called to be the pastor of a well known London Baptist Church. Within a few years, the building was demolished to make way for Spurgeon's Tabernacle, which could seat 5000 people. Spurgeon was, by the age of 25, one of the most famous Christians in Britain.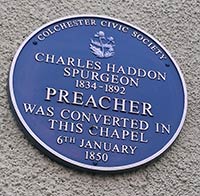 The Frank Daniell blue plaque was unveiled on Tuesday 20th May 2014. The plaque was installed on the front of the house on East Hill, where he lived for much of his life.
Rosemary Jewers has researched into the history and her work can be downloaded below: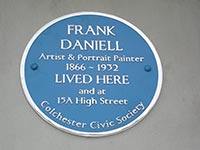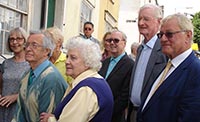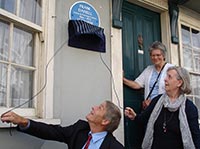 A video featuring this plaque can be viewed below:
A blue plaque to commemorate Dr Ruth Bensusan Butt was erected on the front of the Minories, 74 High Street in June 2016. Dr Bensusan Butt was born in South London in 1877, the daughter of an ostrich feather merchant. She made the decision to become a doctor when one of the household's maids fainted and nobody knew what to do! She trained at the Royal Free Hospital in London, qualified in 1904 and became a MD in 1908. After gaining experience in Italy, Switzerland, Ireland and elsewhere in the UK, she came to Colchester in 1910 with her new husband, Geoffrey Butt, who had taken up a post as an accountant in the town. They lived first on North Hill before moving to the Minories.Dr Ruth was the first woman doctor in the town. A Fabian, a member of the Labour Party, a suffragist, she had a huge social conscience and she threw herself into the task of making life better for the poor, for children and for women in the town. She harangued landlords about the state of their properties until repairs were made. She opened a day nursery at the Minories, she started antenatal classes, she was instrumental in establishing the first Maternity Hospital in Colchester. She opened social clubs for soldiers. She took her duties as a member of the Board of Governors of the workhouse very seriously and fought to instil that same ethic in her fellow board members. Besides doing her best for her patients – she is remembered as a very forthright, formidable, rather frightening, GP but one who was prepared to move mountains if the need arose – she also did her best for the whole community, standing as a Labour Councillor in 1922, winning the election and remaining on the Council until 1935 when she became an Alderman. She also founded the Colchester Inner Wheel, the Colchester Professional Women's Club and the Colchester branch of the Medical Women's Federation. She became President of the Colchester Medical Society in 1934. She was the first woman to attend the Oyster Feast, which she did in 1921. Dr Ruth had three children, John, and twins, David and Barbara. John was a well known Colchester artist and historian and was a founder member of the Colchester Civic Society.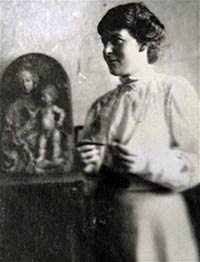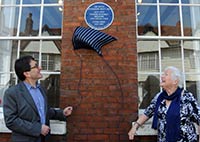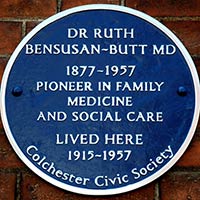 A beautifully inscribed stone plaque commemorating John Ball, who, with Wat Tyler, led the Peasants' Revolt of 1381, was, we believe, commissioned by the Rev Brian Bird, erstwhile Vicar of Edwardstone and Rector of Groton and Colchester Civic Society member. He was an authority on John Ball. The plaque was erected on the front of a house in John Ball Walk but it's position was later deemed unsuitable and it was removed whilst a new site was sought. Unfortunately, the plaque was mislaid. The Civic Society was tasked with locating it (very difficult), finding a new site (even more difficult), restoring it (thanks to Collins and Curtis Masonary Ltd, very easy), getting necessary permissions to re-erect it (long-winded) and finally putting it back on display in the Dutch Quarter, where John Ball lived (with invaluable help from CBC and Colchester Borough Homes).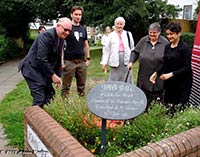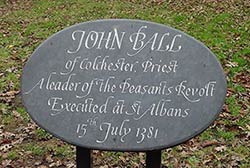 John Ball was born in Peldon. He trained as a priest at St Mary's Abbey in York before returning to Colchester to become a parochial chaplain at St James the Great Church on East Hill. His sole text was the popular jingle of the period 'When Adam delved and Eve span, who was then the gentleman?' He preached for social justice, for social equality, and, as a consequence, soon lost his job at St James! He began to preach in churchyards, catching churchgoers as they left after services. He preached in English rather than Latin, much to the horror of the Church. Eventually, he became such a nuisance that he was excommunicated and, thereafter, imprisoned. John Ball was the inspiration for the Peasants' Revolt. His sympathy for the poorest in Society and his enthusiasm and ability to communicate allowed him, with the help of Wat Tyler, to create an underground movement referred to as 'The Great Society'. The aim was to create the Great Revolt. The Great Revolt began on 30th May 1381. John Ball was in prison in Maidstone at the time but was released by some of Wat Tyler's men. He travelled with them to Blackheath, on the edge of London, to speak to the huge crowd of peasants intent on marching to London to confront the King. Soon afterwards, he was rearrested, tried and convicted. He was executed; hung, drawn and quartered, on 15th June 1351.
Our most recent blue plaque commemorates Catharine Alderton, Suffragist and first woman to become Mayor of Colchester
CATHARINE BUCHANAN ALDERTON (1869 – 1951)
Catharine Buchanan Alderton was the daughter of Rev. Thomas Robinson, minister of Lion Walk Congregational Church 1886 – 1902. She qualified as a teacher and taught mathematics until her marriage to Archibald Alderton in 1897. They had one son.
Mrs Alderton joined the Liberal party and was an active campaigner for votes for women although she opposed violence. Some women were given voting rights in local government in 1894. In 1916 she was elected to Colchester Borough Council, the first woman to be so elected. It has been stated by local historians that she was the most significant woman in Colchester's history since Boudicca.
In 1923/24 she became Mayor of Colchester, the first women to fulfil that role. As a female Councillor she had not been allowed to attend the Oyster Feast which was an all-male affair. As Mayor she presided and used her freedom to invite who she wanted, male and female. She was succeeded as Mayor by Catherine Hunt who did likewise. When the town reverted to male Mayors, a tradition had been established.
Mrs Alderton stood for election to Parliament twice, in Edinburgh South in 1922 and Hull North West in 1929, both times unsuccessfully.
In 1928 she became an Essex County Councillor, the first women in that role too. She was the first woman to serve on the Committee of the Essex County Hospital. She was President of the Women's Liberal Federation in 1931/32. In 1944 she was made an MBE for services to local government. She was President of the National Congregational Women's Guild of England and Wales in 1926/28 and 1928/30.
Mrs Alderton's full length portrait in her mayoral robes, badge and chain, painted by Frank Daniell, hangs in the Mayoral Suite at Colchester Town Hall. Alderton Road off Ipswich Road is named for her.
When she was Mayor and all the relevant period until her death Mrs Alderton and her husband, who predeceased her, lived at 24 Cambridge Road.
The East Anglian Daily Times published an article, viewable here http://www.eadt.co.uk
Commemorating Former Military Sites
After months of planning with Taylor Wimpey House Builders, in January 2018 the Society arranged the unveiling of two plaques commemorating important former military sites. Here are few photos, taken on at Arena Place and Mersea Road. The latter commemorates the Hyderabad and Meeannee Barracks.