Our Highways Work
The society takes a keen interest in all highways matters, including future new road plans for the Colchester area, plus issues reported to us by Colchester residents regarding local roads, pavements, signage etc.
We meet periodically with Essex County Highways to present and discuss these issues and gain insight into strategic Highways plans.
We also comment on Highways plans and proposals such as the recent consultations on Local Cycling and Walking Infrastructure Plan (LCWIP), the A120/A133 link Road and Rapid transit System and The St. Botolph's Roundabout Proposals.
The LCWIP involves significant changes and developments to Colchester's central area road network with the aim of significantly improving infrastructure for cycling. The Essex Highways site explains that:
Essex has been awarded over £7million of government funding to develop safer, greener and healthier travel and transport locally as part of the Phase Two Active Travel Fund.

New cycling and walking routes will be delivered across five towns throughout 2021/22. All five schemes in Basildon (Wickford), Braintree, Brentwood, Chelmsford and Colchester are being developed in detail with the advice of local councils, councillors, businesses, cycling, access and other local interest groups.

The ambition underpinning each scheme is to reallocate road space, creating more space for walking and cycling. These schemes will change the way that you, the local residents, use and think about your streets and spend more time in them.
Plans for Colchester were outlined and consulted on in the first consultation in March and April 2021. These links will take you to the consultation document and to the response Colchester Civic Society submitted.
A follow up consultation on the detailed plans for North Station Road, Lexden Road and the town centre was published in May 2021.
This document outlines detailed plans drawn up in close consultation with Colchester Cycling Campaign and Walk Colchester. ( a Dept. for Transport requirement being that plans must be drawn up by those who actually use the roads) The plans are designed to follow the strict guidelines specified by the Department for Transport in the documents 'Gear Change a bold vision for cycling and walking' and also in 'Cycling Infrastructure'
A summary of the design principles is shown below.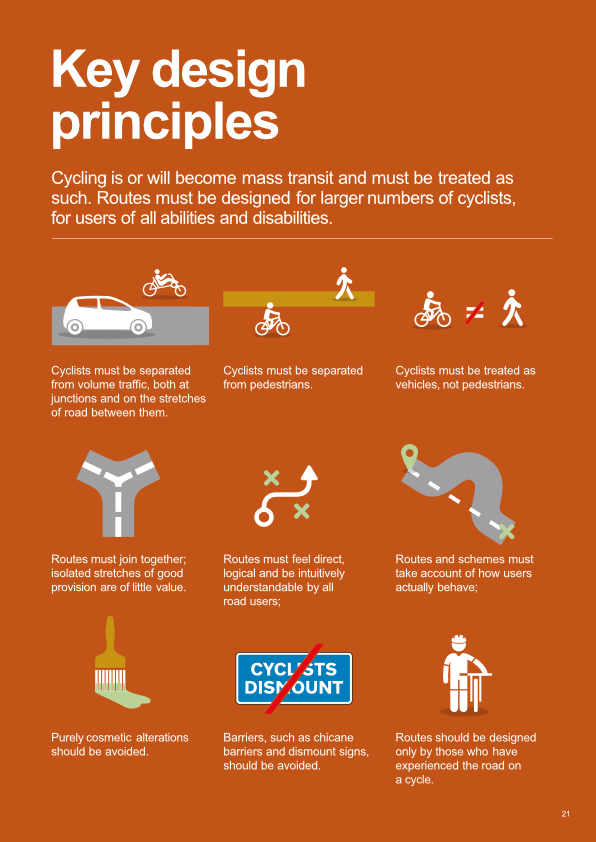 The document also makes clear that:
"The Government intends that all proposed schemes will be checked by a new inspectorate against the summary principles before funding is agreed, and that finished schemes will be inspected as appropriate to ensure that they have been delivered in compliance with them"
Part of the vision for this infrastructure development is to enable a shift to the use of e- bikes and e- scooters in place of cars and in particular to establish depots where internet orders will be transferred to electric cargo bikes for local delivery instead of the vans currently in use. We understand that consultations on such plans are about to get underway for our town, by Colchester Borough Council.
Links to this second consultation and our response are available below:
Our comments on the St. Botolph's Roundabout proposals prompted an invitation to meet with the head of Highways and the engineers working on this, where we found that many of our suggestions were to be followed up. To see our comments and proposals on St. Botolph's Roundabout follow this link to the news page.
If you have concerns over roads, pavements, roadside trees, street lighting and street signage, then we ask in the first instance that you report them direct to Essex County Highways by using the Reporting Tool provided for this purpose on the Essex County Highways Website. Here is the link:
You might also wish to report this to your County Councillor, who may take up the issue on your behalf. Follow this link to find your County Councillor.
If you would like to report highways issues to Colchester Civic Society, then please use this address:
info@colchestercivicsociety.co.uk
In most instances these issues will simply be raised with Highways at the meetings mentioned above.
We do however on occasions take up issues reported to us and campaign for changes.
The best example of this in recent years is our campaign to Stop the U turns at Lewis Gardens.
We began by publishing this video on our new Facebook Page in January 2017
COLCHESTER CIVIC SOCIETY SAY CUT THE HIGH ST./ QUEEN ST. BUS LANE AND STOP THE DANGEROUS TURNS AT LEWIS GARDENS. PLEASE WATCH THIS SHORT VIDEO AND SUPPORT OUR CAMPAIGN BY SHARING THIS POST AND GIVING US YOUR VIEWS AND EXPERIENCES. WE WOULD LIKE TO HEAR FROM PEDESTRIANS AND MOTORISTS
This first post went viral and received 65,000 views in three days! But despite a huge public response and Colchester Borough Council coming out in favour of our campaign, County Highways have continued to refuse to remove the bus lane.
They were however obliged to attempt to take some remedial action when the number of reported injuries here reached its limit. A traffic island and two bollards were installed at the junction in August 2019.
Also, following a packed public meeting at Greyfriars Hotel, this was followed up by new signs intended to discourage turning here and also at Roman Road, where many vehicles now turn instead. Turns at Lewis Gardens are about to be made illegal. We have been promised a review of the situation and the Society will be pressing for this once the impact, if any, of this latest development has been assessed.
Follow this link for a report on this public meeting.