CATHARINE BUCHANAN ALDERTON (1869 – 1951)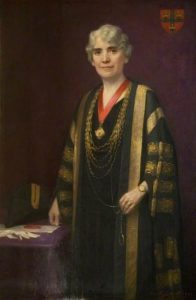 Catharine Buchanan Alderton was the daughter of Rev. Thomas Robinson, minister of Lion Walk Congregational Church 1886 – 1902. She qualified as a teacher and taught mathematics until her marriage to Archibald Alderton in 1897. They had one son.
Mrs Alderton joined the Liberal party and was an active campaigner for votes for women although she opposed violence. Some women were given voting rights in local government in 1894. In 1916 she was elected to Colchester Borough Council, the first woman to be so elected. It has been stated by local historians that she was the most significant woman in Colchester's history since Boudicca.
In 1923/24 she became Mayor of Colchester, the first women to fulfil that role. As a female Councillor she had not been allowed to attend the Oyster Feast which was an all-male affair. As Mayor she presided and used her freedom to invite who she wanted, male and female. She was succeeded as Mayor by Catherine Hunt who did likewise. When the town reverted to male Mayors, a tradition had been established.
Mrs Alderton stood for election to Parliament twice, in Edinburgh South in 1922 and Hull North West in 1929, both times unsuccessfully.
In 1928 she became an Essex County Councillor, the first women in that role too. She was the first woman to serve on the Committee of the Essex County Hospital. She was President of the Women's Liberal Federation in 1931/32. In 1944 she was made an MBE for services to local government. She was President of the National Congregational Women's Guild of England and Wales in 1926/28 and 1928/30.
Mrs Alderton's full length portrait in her mayoral robes, badge and chain, painted by Frank Daniell, hangs in the Mayoral Suite at Colchester Town Hall. Alderton Road off Ipswich Road is named for her.
When she was Mayor and all the relevant period until her death Mrs Alderton and her husband, who predeceased her, lived at 24 Cambridge Road.
Below are some photos from the unveiling event. They include five women mayors of Colchester and also members of Catharine Alderton's family. Click on an image to see it full frame.