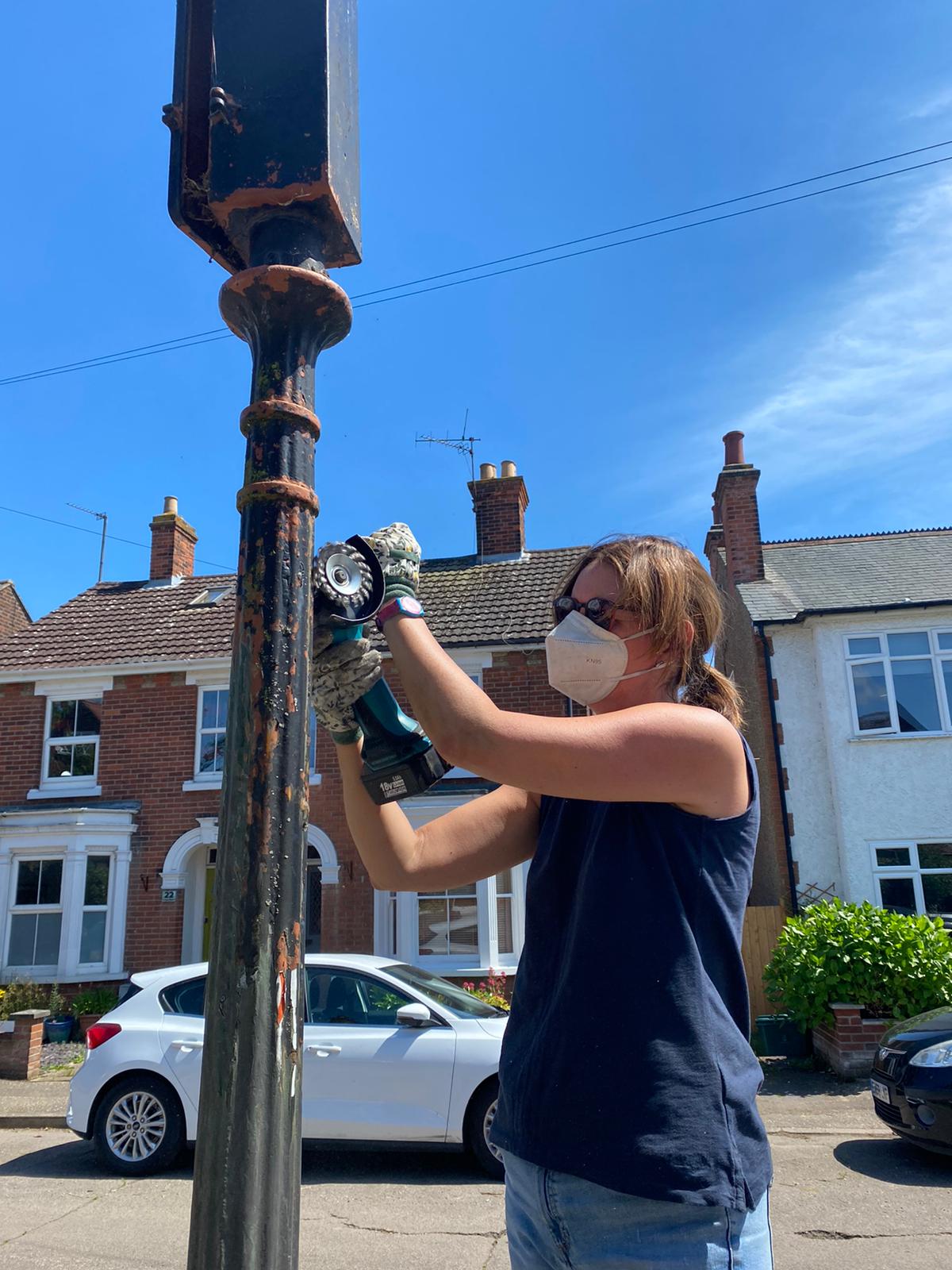 The following article was submitted to the Colchester Gazette recently and an expanded version was published last week. This was a follow-up to Sir Bob Russell's report published in  the Gazette in November outlining the work carried out on by the Irvine Road Residents Association. We hope that it will serve to encourage more volunteers to work on our cast iron lampposts during this coming year.
So far this year volunteers have come forward to work on the lampposts in Gladstone Road and Victoria Road. This is in addition to those already lined up in Salisbury Avenue, Beverley Road and Studd Lane.
If you are interested in getting involved just email John Salmon on info@colchestercivicsociety.co.uk 
Help Colchester Civic Society to restore our cast iron lampposts
Colchester has around 340 cast iron lampposts remaining on its streets. Over the last 170 years more than 800 were made to order for the town from a unique pattern owned by Colchester Borough Council and manufactured in local foundries. Everyone bears the name of the company that made it; names such as A G Mumford, Bennell & Co, Stanford & CO, Truslove & Co and F W Bracket.
If you live in the Lexden Road or Maldon Road areas, in New Town or in any of the Victorian and Edwardian street surrounding the town center then there's a good chance you have one or more of these historic lampposts still lighting your street. However, there is also a high likelihood that they are in a very sorry state, with peeling paint and rust patches resulting from many from years of neglect.
This is something COLCHESTER CIVIC SOCIETY has set about remedying with a project to enable local people to take on the repainting of cast iron lampposts in their street. Led by John Salmon, the first streets to receive a makeover were Roman and Castle Road in the summer of 2020, followed this year by the Irvine Road area and also the last remaining cast iron post in Burlington Road.
As John explains, our cast iron lampposts were well looked after by the Colchester Highways department up until about sixteen years ago, when responsibility was passed over to Essex Highways and they became subject to a different regime under which the lighting units are maintained, but the posts themselves are simply left to degrade, presumably until such time as they are deemed unfit and replaced with galvanised steel posts.
Not being prepared to give up and leave the lampposts to rot in this way Colchester Civic Society has set up a restoration project to get as many as possible repainted by volunteers. Essex Highways have supplied the paint and tools and equipment were bought with funding from Ward and County Councillors locality budgets. To date almost forty cast iron lampposts have been stripped and repainted. Volunteers are already lined up to get to work next year in Salisbury Avenue, Beverley Road, Gladstone Road and Studd Lane. But COLCHESTER CIVIC SOCIETY IS LOOKING FOR MORE VOLUNTEERS to take on the repainting of the cast iron posts near where they live.
John Salmon explains, you do not have to be part of a residents association or any other sort of community group. We are keen to help anyone willing to get out and work on the cast iron posts near where they live. Many of the posts stripped and repainted this year were worked on by husband and wife teams, who adopted a post near their home. We will provide the paint, tools and most of the necessary equipment. Having repainted five lampposts myself I can advise you on how to go about it. It can seem like a daunting task before you start, but as the wire brush strips away the old paint and details of the casting are fully revealed  it became a very satisfying process for me. While the fresh paint transforms these posts into the objects of pride and beauty they were intended to be when they first lit our streets with gas produced at the Hythe Gas Works.
If you would like to volunteer, or simply know more, then please get in touch with John via the Civic Society email address info@colchestercivicsociety.co.uk
Many thanks to Helen Skipp and the Irvine Road Residents Association for organising the repainting of  their cast iron lampposts during the summer of 2021. Thanks also to all the volunteers, including Claire Law, Isobel Merry and Tony Emment for use of their photos.
Thanks also to  Justine Burrell-Saward for the work on the last remaining cast iron lamppost in Burlington Road.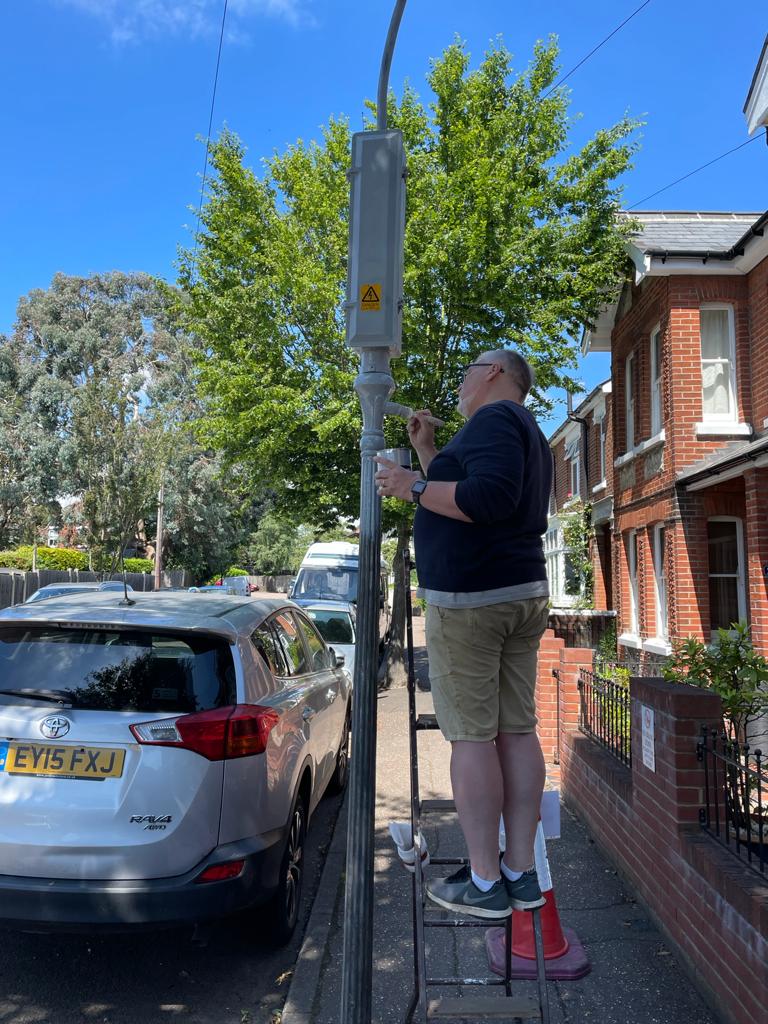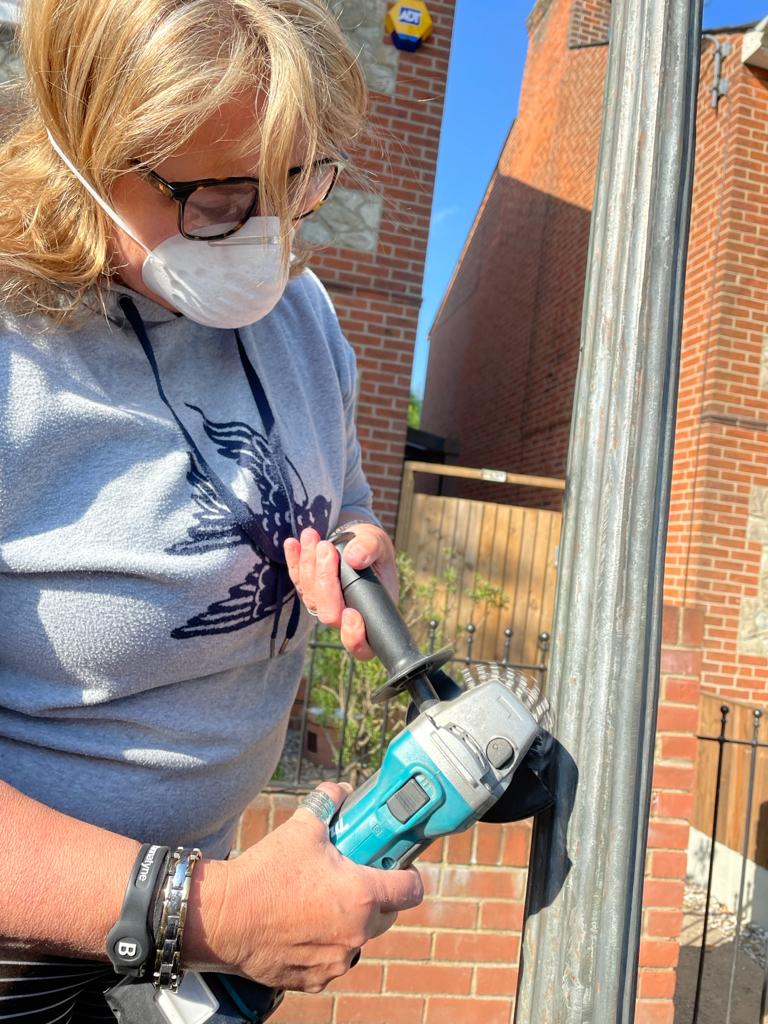 Back To News