Our Campaign Work
This is a recent addition to our activities. Our first campaign began on our new Facebook page in January 2017 with this:
COLCHESTER CIVIC SOCIETY SAY CUT THE HIGH ST./ QUEEN ST. BUS LANE AND STOP THE DANGEROUS TURNS AT LEWIS GARDENS. PLEASE WATCH THIS SHORT VIDEO AND SUPPORT OUR CAMPAIGN. BY SHARING THIS POST AND GIVING US YOUR VIEWS AND EXPERIENCES.. WE WOULD LIKE TO HEAR FROM PEDESTRIANS AND MOTORISTS
This first post went viral and received 65,000 views in three days! But despite a huge public response and Colchester Borough Council coming out in favour of our campaign County Highways have continued to refuse to allow anything to be done to alleviate the problem. More recently a strategic review of traffic movement in the town was announced in the summer of 2017, with the U turns at Lewis gardens being specifically mentioned as one of the issues to be resolved. However the leader of Colchester Borough, Paul Smith, indicated that he thought our campaign should continue, because any actions arising from the review could be years away. And so we have continued with more videos on Facebook and articles in the Colchester Gazette. The full story can be found in the numerous posts on our Facebook Page. At present there is a renewed interest in the pedestrianisation of the High Street, which might also result in resolving this issue at some point in the future. We hope that in the meantime there are no further injuries to pedestrians or cyclists.
Future Campaigns
Cast Iron Lampposts.
A new campaign is being developed at present in an effort to try protect the remaining 300 Victorian, cast iron lamp posts in Colchester. These posts, made by a number of Colchester Foundry's, were originally erected for gas lighting and later converted for electric lighting. From the beginning they were looked after by Colchester Borough Council. Lamp columns were painted and even replaced from a stock of posts help at the Jarmin Road Depot. However since Essex County Highways took over responsibility for our roads in 2005 this work has stopped. County Highways do no maintenance of these cast iron posts and have made it clear they will not be doing so in future. They are being left to rot! And any that are damaged are replaced with steel posts. One hundred and fifty year old posts, made in Colchester, are gradually being replaced with steel posts with a lifetime of fifteen years.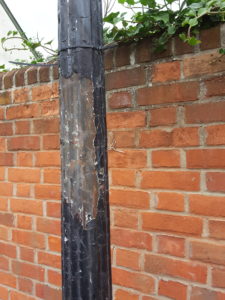 As you can see many of these historic lampposts now look sadly neglected, with peeling paint and bare, rusting metal. There will be more to report on this very soon.
Campaigns are currently coordinated by John Salmon. He can be contacted at johnsalmon@colchestercivicsociety.co.uk
Campaign to remove Plastic Ties blighting street furniture
Plastic Eyesores removed
The Society has mounted a campaign to remove thousands of irritating plastic cable ties used to fasten notices to lamp and sign posts. For some reason the ties were not removed when the notices about such things as road works, street closures and parking restrictions were taken down – or fell off. Some posts had amassed several ties following repeated postings. This is difficult to understand as they are quick and easy to remove.
As well as removing the ties. members also removed a number of old notices. One veteran notice posted by Essex County Council dated 2008 was still adorning, or more accurately blighting, the street furniture on Cowdray Avenue until the Society came to its rescue in February 2019 – over ten years later, A record?
Many of Colchester's streets are still blighted by countless ties and expired notices. There are hundreds still out there – an unnecessary and unsightly blot on our streetscape just waiting to be removed. We welcome any handed in to us to add to our total, all will be recycled.
You never know, you might beat our current record of eight ties on one post and a post still sporting a notice from 2008!
If you would like to get involved please contact Sheila sheilamanderton@gmail.com